In the world of cartoons, the cat has been a central figure. In the West, the cat is the evil nemesis of the dog. But here in China, the cat prevails over the mouse.
To Sunchime Cartoon Group, that could be symbolic. Blue Cat, whom it has developed to be the most recognizable cartoon character in China, is eyeing the hallowed status of Mickey Mouse. After solving 3,000 science-related issues, the kitty not only reigns China, but has meowed into a dozen overseas markets. In 2002, the series was dubbed into Cantonese and aired on Hong Kong's ATV; in 2005, it prowled its way into Taiwan's Disney Channel.
There are many cities vying for the title "China's animation capital," but judging by quantity, Changsha has won the first round. Of 60,000 minutes produced nationwide in 2006, Changsha accounted for half, and Sunchime contributed 15,432 minutes of that number.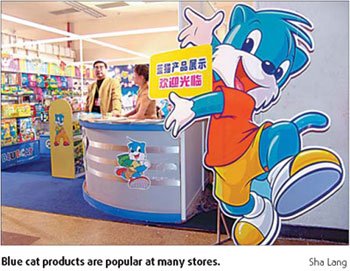 "China has always had first-class animation works, but we never had an animation industry or a verifiable brand," explains He Mengfan, president of Sunchime. That is, until Blue Cat bursts on the scene.
Unlike Mickey Mouse, Blue Cat does not purely entertain. Much of his job is to educate, as in the 3,000 episodes where common science questions are answered with feline participation.
"We're developing shows customized for our clients. For example, we used our cat to get into the human body and fight germs and diseases. Another series is to teach proper etiquette. Recently, the fire department has asked us to produce a show to prevent and fight fire hazards," He elaborates. Another subject Blue Cat will tackle is language learning, a huge market in itself.
But in China, animation does not pay if you sell only to the television station. Revenue from broadcasting is a pittance compared with the production cost. That drives Sunchime into the ancillary market where it has 5,000-6,000 franchisees selling everything from toys and stationery to garment and soft drinks. Overall, three quarters of its revenue come from product licensing while broadcasting rights, including those for overseas, account for only a quarter.
"The center of China's animation production had never been in Hunan - until the last decade. We started from scratch, and I can tell you a secret - we didn't even get the best graduates as many were trained just in local schools," reveals the Sunchime president. "But what we have is imagination, something in the genes of Hunan culture. And we give the youngsters a chance to create."
He credits government support for part of its success. "The government encourages us to grow our national animation industry, and it is coordinating an effort to list the three largest animation companies in Changsha, including ours, as one corporate entity."
That is something the Monkey King, a prominent character in early Chinese animation, never imagined. Then, Blue Cat is already in uncharted territory. His guide is the equally cute and puckish mouse.