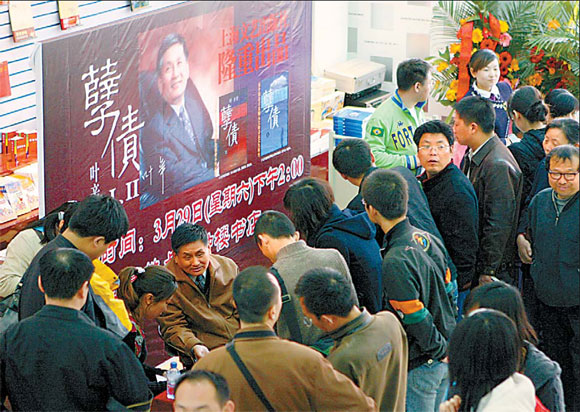 Readers solicit signatures from Shanghai-based writer Ye Xin (fifth from left) during a book-signing in Xi'an, Shaanxi province, late last month. Shang Hongtao
Come spring and Chinese writers begin harvesting literary crops. This year, it began with the Chuang Chung-wen Literature Awards - with seven writers being bestowed the honor early last month. That is when entries for the Seventh Mao Dun Literature Awards, arguably the most important for contemporary Chinese writers, were closed too. And the Sixth Chinese Language Media Literature Awards will be announced in Guangzhou this weekend.
But not all crops in the literature harvest carry the same value, says Wang Meng, one of the most outspoken Chinese writers. The Chuang Chung-wen Literature Awards are unique because they honor writers on the basis of their "overall contribution to literature and society, and not on their short-term merits or fame earned through their bestselling works, if any", Wang said at the opening ceremony of the Chuang Chung-wen awards.
The real motive of such literary awards is to help encourage people to pursue a career in writing.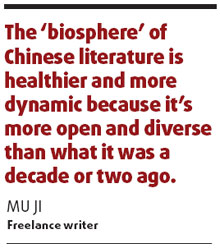 Wang is not alone in giving such importance to the development of Chinese literature. During the 11th National People's Congress' (NPC) first annual session last month, NPC deputy and popular novelist Ling Jiefang (alias Er Yuehe) submitted a controversial proposal to raise the standard of contemporary Chinese literature.
The Henan-born writer suggested that the country set up a Chinese equivalent to the Nobel Literature Prize and exempt writers' royalties from income tax. This is important because many contemporary Chinese writers "lack creativity and originality", says Er Yuehe, who became one of the first millionaire writers in China in 2001.
His suggestion, however, was not welcome by all writers, readers and critics. Freelance writer Mu Ji says China's literary world has benefited from continued reform and opening up, globalization, the Internet boom, influx of private and foreign investment into the publishing sector, and dynamic exchange between Chinese and foreign cultures through films, TV serials and books.
"The 'biosphere' of Chinese literature is healthier and more dynamic because it's more open and diverse than what it was a decade or two ago," she says.
But writers in the traditional mold such as Er Yuehe have overlooked, though unconsciously, the literary currents spearheaded by a great number of creative young writers, most of who were born in the late 1970s and early 1980s, says Beijing-based critic Zhao Mingyu.
Literary creation is no longer restricted to career writers who live off the government coffer. Some young writers such as Han Han and Zhang Yueran, who are not associated with any writers' body, have stolen the show from older writers. Instant fame has brought wealth, too, to some of them, and they enjoy a celebrity status usually reserved for pop stars.
These writers, representatives of the "80s generation" - though Zhang hates such classification - have high commercial value because many youths read their works. Guo Jingming's City of Fantasy and River of Sorrow have been bestsellers, as have been Zhang's Far Away Peaches, Red Shoes, Bird Under Oath and Lost in 1890, and Han's Three Layers of Doors.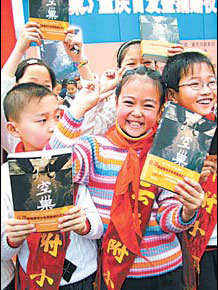 Primary school pupils hold a book about families of migrant workers which were given to them as a present in Chongqing, early last month . Rao Guojun
In fact, Three Layers of Doors has already undergone dozens of reprints and sold about 2.1 million copies since its release in 2000. The popularity of Han's novel, which describes the life of middle school students, has been attributed to his criticism of the education system.
Guo was ranked 100th on the 2004 Forbes Chinese Celebrity list, reflecting the great talent that he is a master of and the immense commercial potential he possesses. He gained success overnight when his City of Fantasy hit Beijing's book stores. Having sold more than 1.5 million copies. City of Fantasy depicts a fanciful world, where the affections of the characters are simple and pure, with no worldly obstacles. Guo has tried to convey his thoughts on human nature, and his portrayal of rich emotions has been widely appreciated by the readers.
Guo is studying film art and technology as a sophomore in Shanghai University. And writing for him is "like playing badminton. It's one of my hobbies", he says. "I write to record the annual changes. Maybe there won't be enough changes in future. Then I will stop writing." Such casual thoughts are what make these new-generation writers what they are.
But they do not take every aspect of life as casually, even if they say they do. Take Zhang for example, who is the first post-80s writer to indulge in self-reflection.
She writes in her blog: "Before I understood all those things, I was made a 'star writer'. All my previous works were led by various powers down a road of flaunts and uproars. Many of my fellow writers are the scheming (type). They don't care about consequences and look for made-up honors.
"It's always so easy for us to ignore or forgive or even indulge our faults, as if running towards an evil utopia. Did any one of us really realize that this road would never lead us to true literature and, hence, our dreams? ... We are commercial instruments exploited by some people to make money; we are entertainment tools used and played by media and critics ...
"Finally, we inevitably reach a state where suicide seems a way of nirvana. We make up more meaningless honors for ourselves and play games that have nothing to do with literature."
Born in Shanghai, Han earns a more than decent living not only by writing, but also by racing motorcycles.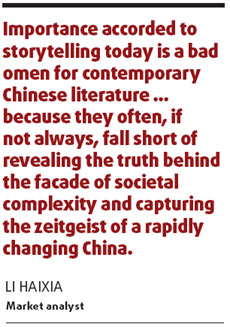 It is refreshing to know that many of these young writers are women, says Beijing-based book-market analyst Li Haixia. "The Internet's popularity has helped liberate the creative potential of Chinese women, especially the 20- and 30-something writers who have transformed from readers to writers," Li says.
Twenty-year-old white-collar worker Jin Zi ventured into the realm of literature, trying to write her first history-fantasy novel Back to the Qing Court in 2005 after reading the works of netizens. Her series about a Beijing girl's thrilling travel back to the Qing Dynasty has sold more than 300,000 copies. By late last year, at least 40 netizen-generated fantasy novels had gone offline, with each selling more than 100,000 copies, Li says.
"Many of the budding woman authors are not used to being called writers in the first place because writing for fun and relaxation is their motivation," Li says. If these writers are amateurs whose efforts need to be respected and whose weak points appeal for tolerance, whatever "career writers" have achieved in recent years has been disappointing, says veteran Chongqing-based publisher Li Jie.
The tradition of fiction-writing, he says, has been "severely diluted" in recent years and "whatever we read from famous writers is not fiction in the strict sense of the term, but cleverly told stories and unusual plots". For instance, woman writer Bi Shumin's two-volume Female Psychiatrist reaped a bumper harvest with over 500,000 copies.
Script-turned novels by male writers such as Shi Kang (Starting from Scratch or Fen Dou) and Liu Zhenyun (I Am Liu Yuejin) top the bestselling list because of their fast-moving narrative and fragmented, sensational plots. In contrast, Hunan-based writer Li Rui's Human World (Ren Jian), Shanghai writer Wang Anyi's Age of Enlightenment and Ge Fei's Dream of Mountains (Shan He Ru Meng), all of which have thought-provoking themes, have not been well received by readers because the pace of these stories is slow, and the writers indulge in parables and personal experience.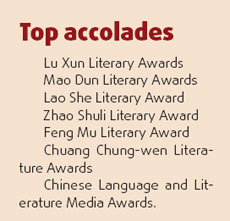 Good storytelling is the golden rule to judge a writer today. And well-told stories sell well among readers who get nothing more than a fleeting satisfaction of knowing the final result of the story, Li says.
"Novels need to fly with utopian ideals and should endow readers with a sensation that is built deeper, longer and higher. They should provide a spiritual and sensuous, rather than a superficial, touch." But the "importance accorded to storytelling today is a bad omen for contemporary Chinese literature", Li says, "because they often, if not always, fall short of revealing the truth behind the facade of societal complexity and capturing the zeitgeist of a rapidly changing China."
(China Daily 04/09/2008 page7)